Gearheads jam annual Auto Fest car show | School News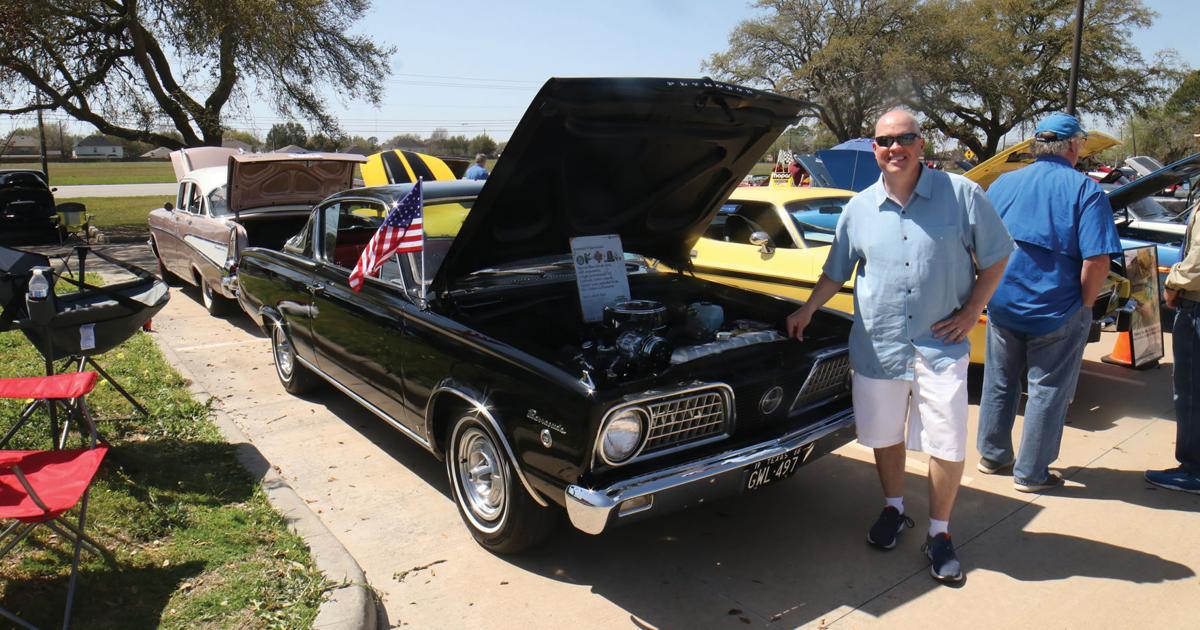 Jimmie and Cindi Dean of Pleak haven't had the opportunity — or the large sum of cash — it would take to restore their 1956 Oldsmobile Holiday Super 88 and 1951 Hudson Pacemaker, but they still enjoy driving the vintage beauties.
And on Saturday, they were rewarded with plenty of compliments from fellow gearheads who attended the LCISD Auto Fest car show at the natatorium in Rosenberg.
The Deans were among 95 individuals who entered autos in this year's fundraiser, a record number. Two people entered two cars.
Proceeds benefit the Lamar Consolidated High School auto technology department.
Hundreds of visitors checked out vintage autos, classic beauties and even modern day vehicles all shined to showroom perfection.
Foster High School freshman Seth Stephan, 15, showed his uncle's Chevy Camaro.
He said Uncle BJ left the vehicle in his care while he is working in California.
Jim Richardson of Boling was hoping to win a trophy or two for his 1960 Ford Sunliner, which has been completely restored over the years.
He said he rarely sees 1960 Ford Sunliners, restored or not. "This one is very rare," he said. "I've only seen three others."
Brian Verdehem of Sugar Land spent much of the show talking to folks about his restored 1966 Plymouth Barracuda.
It cost a small fortune to restore, he admitted.
"Don't tell my wife," he pleaded with the photographer.
Still, the expense and hard work has its rewards, he said.
"Whenever I go out for a drive, I get lots of waves, thumbs up and honks," he said.
The event raised much-needed funding for the auto tech department, its organizer noted.
"The 2022 LCISD Auto Fest was a success!," said Allen Deon Wilson, LCHS auto tech teacher.
"We had right at a hundred vehicles. We actually broke 100 vehicles before then but Covid hit and shut us down a couple of years."
Wilson said a large college of individuals, groups and businesses helped make the annual fundraiser a success.
"I would like to personally thank all the sponsors, vehicle owners, vendors, volunteers and spectators for supporting the automotive program," he said.
Wilson suspects the event raised more than $2,000 for the auto tech department.
"The show is important because it brings attention to the automotive program and supports student participation in SkillsUSA competitions, field trip and projects," Wilson explained.
"Also, this is only major fundraiser we have for the program. We do not have a booster club."
Sponsors this year included Legacy Ford, Davis Bros. Auto Supply, Finnegan Auto Group, Momentum BMW, Rock Auto, Summit Racing , Classic Chevrolet, Rowdy's BBQ and Just Chill Out Shaved Ice.
"Vehicle owners and visitors said they had a great and can't wait until next year!" Wilson said. "I also heard: 'Great! show! Awesome show! Great time!"
While some of the vehicles were restored at great expense, others entered had not been restored at all, such as the 1956 Oldsmobile Holiday Super 88 and 1951 Hudson Pacemaker entered by the Deans.
"We get a lot of nods, a lot of waves when we drive them around town," said Jimmie. "I see a lot of people taking cell phones photos of them."
Jimmie Dean said his stepfather, Merle Whitaker, used to teach auto mechanics at Lamar Consolidated High School before he retired.