The Best Bike Locks for Every Cyclist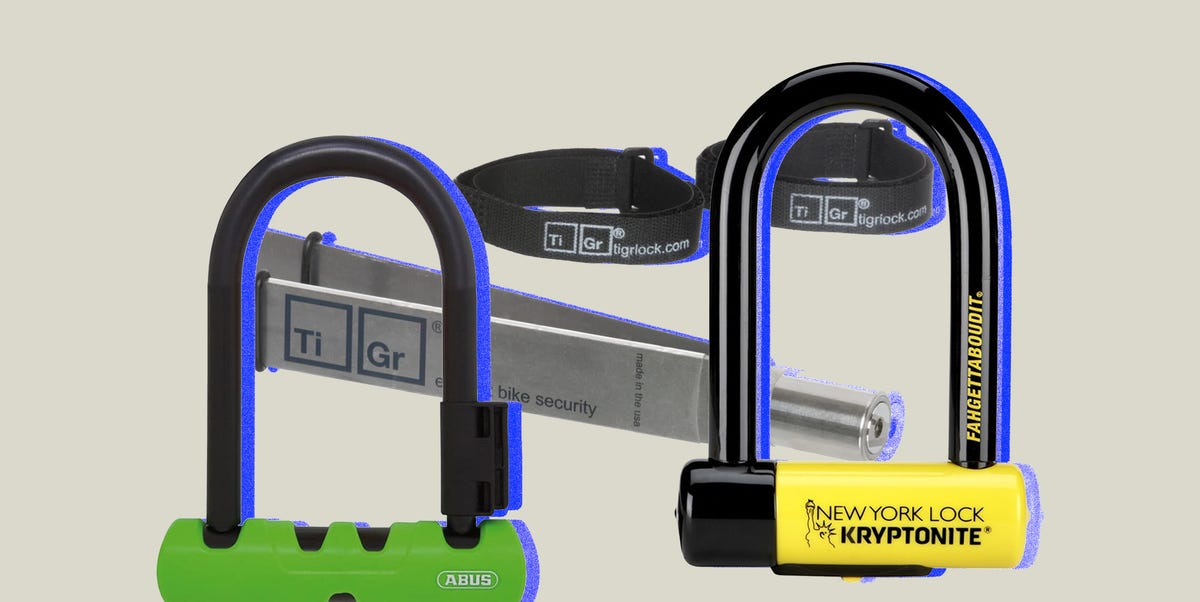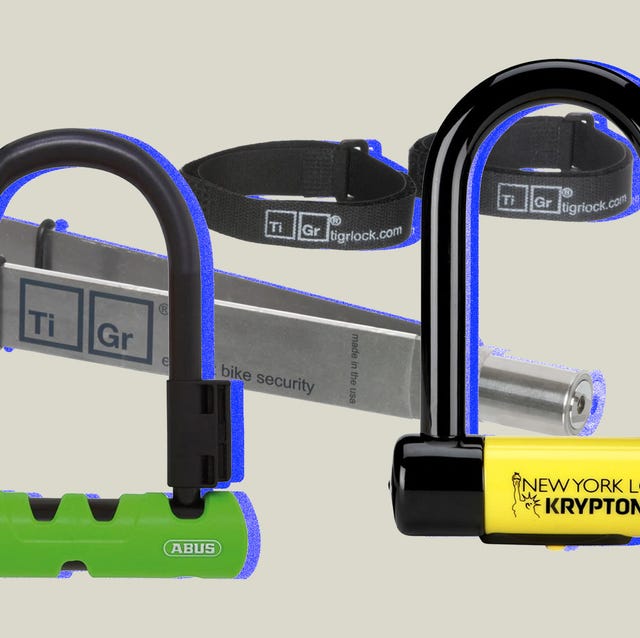 Courtesy
Cities are graveyards for stolen bikes, with bent wheels and ragged frames hanging off anything nailed to the ground, sometimes with a sawed-through bike lock lying in plain sight. The air is thick with the ghosts of bikes that were stolen completely — Fujis, Treks, Surlys. You can almost hear their cute little bells ringing, warning you to get the hell out of the bike lane. Estimates for stolen bikes in North America range from 800,000 to two million per year. Moreover, they're challenging to get back because most people don't write down serial numbers, register their bikes or even report a theft to police (and stolen bike recovery isn't exactly law enforcement's number one priority, either).
How to lock your bike properly
When it comes to bike locking etiquette, there are several tips that will keep your sweet ride out of the hands of thieves, and safe from harm. (There are also a few ways you should never lock your bike.) First tip: consider locking your bike in a busy, crowded area with plenty of other bikes locked up — the more eyes on your bike, the less likely it is to be stolen, and the more bikes crammed into one area, the harder it is to pull one out of the shuffle. Second, lock your bike to an immovable object and make sure if you're using a cable lock, to wrap it as many times you can for extra security. Third, always lock your frame to an immovable object — otherwise, you're going to be left with a sad, solitary wheel for transportation. If you're using a U-hook, try to fill as much of the space as possible, so that thieves can't get the proper leverage they need to saw it open. If you're security-focused (and perhaps jaded from a past robbery) consider using two locks
The good news is that with a serious bike lock, proper locking technique and the good sense to take the darn thing inside at night, you can prevent your bike from becoming a statistic. Remember that no lock is safe in all places — take into account where you're leaving your bike, what type of lock you're using and how long you'll be gone for. Bike thieves are opportunists, and they'll calculate quickly they can nab a bike against how valuable it looks. If your favorite beat-up commuter is firmly secured and there's a nice-looking ride with a flimsy cable lock on the next rack over, chances are you're safe.
Now, on to the bike locks.
Advertisement – Continue Reading Below
BEST OVERALL
Kryptonite New-U New York Fahgettaboudit Mini U-Lock
Easy to use
Vinyl coating won't scratch your bike
Yellow colorway is eye-catching
With its yellow and black vinyl coating, the Kryptonite New York Fahgettaboudit Mini is as ubiquitous as it is battle-ready. The 18mm hardened steel shackle and oversized steel sleeve covering the crossbar are designed to thwart bolt cutters, and the small size makes prying with a lever downright tricky. Pair it with a secondary cable for additional security. The Fahgettaboudit comes with a theft-replacement guarantee of $5,000.
Material: 18mm hardened steel
Weight: 4.54 lbs
BEST SPLURGE BIKE LOCK
TiGr Bow: Standard length
Forward-thinking design
Can lock around frame and both wheels
You've already invested in a beautiful piece of machinery and you're not about to kill the look — sound like you? Consider the TiGr Lock, which looks like an avant-garde pair of tongs but is actually a titanium bow covered in clear PVC that, in it's longer iterations, can lock around a bike frame and both wheels. The TiGr began as a Kickstarter, so you can thank crowd-funding for this beauty.
Material: Titanium
Weight: 1.4-2 lbs
BEST BUDGET PICK
Abus 410 Ultra U Lock
Lightweigt
Easier on the wallet
Like the Fuhgettaboutit, the Abus 410 Ultra is a short U-lock that'll keep your bike close to the rack/sign/parking meter, which makes tampering with it more difficult for thieves. Unlike Kryptonite's lock, this one costs half as much. Its steel is also slightly thinner in diameter, part of why it weighs less than half as much.
Material: 14mm hardened steel
Weight: 2.16 lbs
BEST LIGHTWEIGHT LOCK
OTTOLOCK Sidekick Compact U-Lock
Lightest lock on the list
Easy to pack
Doesn't stand up against thieves with clippers
Ottolock's cable tie-style bike lock is for those who require supreme lightness in a lock. The classic Otto cinch lock comes in three lengths: 18, 30 and 60 inches; and the shortest weighs only 120 grams (roughly four ounces). It's also small enough to tuck under your bike seat, or even clip on to your belt loop. But if you're worried about bike thieves with clippers, go for the bundle, which comes with Otto's new Sidekick U-lock. Using two locks is a good way to deter thieves (especially if your bike is parked next to one with a single lock).
Materials: 12mm silicon-coated hardened steel (U-lock); non-marking plastic-coated Kevlar (cinch lock)
Weight: 1.65 lbs (U-lock); 0.39 lbs (cinch lock)
BEST CHAIN LOCK
Onguard Beast Chain Lock with X4 Padlock
Burly enough for bigger bikes
Super heavy at over 15 pounds
If you have a particularly bulky bike, like an e-bike or a cargo bike (or an e-cargo bike), the best protection you can get might just be a massive chain. The Beast is one such option, made of 14mm link titanium reinforced chain coupled with a short shackle u-lock. Its shortest available length is over three feet, which should be enough to wrap larger bikes. The main drawback with this lock, or any chain lock, is weigh; this one is around 15 pounds. The Beast comes with a theft-replacement guarantee of $5,000.
Material: 14mm titanium-reinforced steel
Weight: 15+ lbs
BEST FOLDING LOCK
ABUS Bordo Granit X-Plus 6500 Folding Lock
Highest level of security on Abus' scale
Portable design
German security company Abus is very interested in keeping thieves away from your goods: they make alarm systems, surveillance cameras, even fire extinguishers. So you can probably trust them with a bike, right? The Bordo GRANIT X Plus 6500 will cost a pretty penny, but it hits 15 on the company's security rating scale, the highest level. The portable design of folding 5.5mm hardened steel bars includes a soft coating to prevent nicks and scratches to your ride.
Material: 5.5mm hardened steel
Weight: 3.48 lbs
BEST LOCK ACCESSORY
Pinhead Locks Locking Quick-Release Set
An extra layer of security
Will need to be mindful of coded key
Think of Pinhead's products less like locks and more as locking accessories. Instead of securing your bike to a post or rack, Pinhead's skewers secure easily remove components like wheels, saddles, seatposts and headsets. The skewers lock with a coded nut recessed in a free-rotating housing. The construction means you have to have the same coded key to remove them, which means you'll need to carry it around if you plan to remove anything or make adjustments. But that's a small price to pay for extra security, and in our experience, most bike mechanics have ways of prizing them loose sans key, for better or worse.
Material: CrMo steel and aircraft aluminum alloy
Weight: n/a
This content is created and maintained by a third party, and imported onto this page to help users provide their email addresses. You may be able to find more information about this and similar content at piano.io
Advertisement – Continue Reading Below