INDIANA IN-DEPTH: Chip shortage puts news, used vehicles in high demand | Across Indiana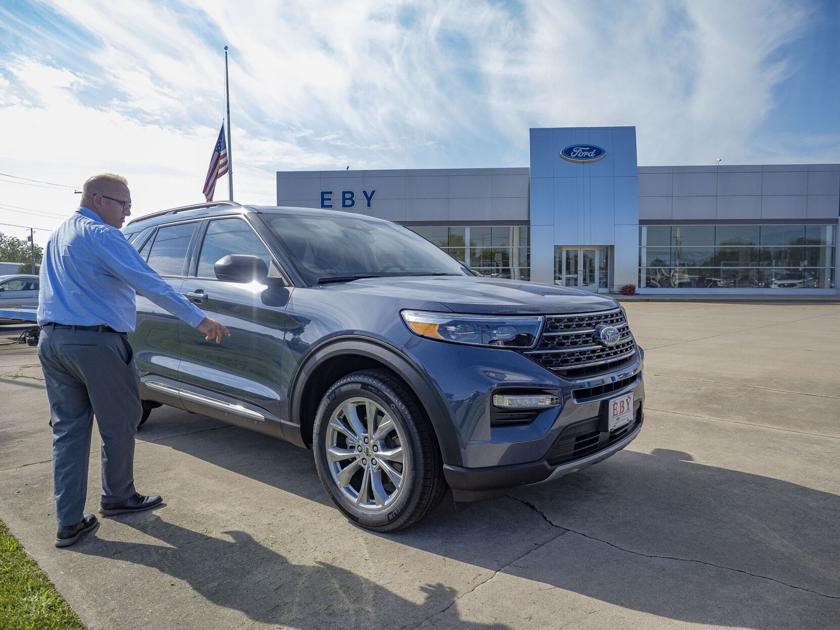 Currently in the market for a new or used car? If so, be prepared for some sticker shock, at least for the foreseeable future.
According to the analysts at automotive resource company Edmunds, new car inventories have been strained for months due primarily to a combination of global semiconductor chip shortages and supply chain disruptions connected to the COVID-19 pandemic.
After digging into the potential impacts of those factors, the company recently reported that new vehicle inventory at dealerships nationwide was down by 48% this spring compared to a year ago, with inventories continuing to fall in the summer. And while the company does predict that new car inventories will begin to steadily rebuild beginning in September, the anticipation is that inventories will remain well below their pre-pandemic levels through 2022.
"New vehicles — particularly new trucks and SUVs — are basically the 2021 equivalent of toilet paper and hand sanitizer a year ago," Jessica Caldwell, Edmunds' executive director of insights, said in the recent report. "Dealers and automakers are making good profits right now since consumers seem to be a bit more accustomed to paying more for goods in the past year, and new vehicles are no exception."
Eric Eby, general manager of Eby Ford Lincoln in Goshen, said he's definitely noticed a large dip in the dealership's new car inventory in recent months, pointing in particular to the ongoing chip shortage as a major contributing factor.
COVID STARTED IT
The origin of the shortage dates to early 2020 when COVID-19 caused rolling shutdowns of vehicle assembly plants. As the plants closed, chip suppliers diverted the parts to other sectors, such as consumer electronics, which weren't expected to be as impacted by the pandemic lockdowns sweeping the globe.
"It's a complex issue," Eby said.
The shortage has reduced the number of new vehicles he's been able to get on his lot.
"The logistical portion of it is definitely burdensome, but Ford is figuring it out," Eby said. "They're going through and dual-sourcing chips and things like that. So, they have a hopeful outlook that by the end of this year, we should be back to somewhat of a normal operation.
"Our outlook right now is, most of the vehicles that have been held up because of a chip shortage should be built and sent out to us by the end of this year," Eby added. "What I will call the 'new normal' should arrive by about the middle of next year, with the new normal being that there is going to be a lower inventory level at most new car franchises of vehicles in stock. And what we will see is that most customers that want anything of a specialty or a custom order, that will be well-received by the factories, and so you'll see a lot more what we call retail customer orders from the factory, and a lower level of dealer stock."
Brian Dorsett, dealer principal with Dorsett Automotive in Terre Haute, noted that while new car sales have remained strong at the dealership, he too has experienced a significant drop in new car inventory on his lot in recent months.
"Over the last probably month and a half or so, we've had a lot less new cars in inventory as compared to a normal situation," Dorsett said. "And when I say normal, even throughout all of 2021, we have not had our normal level of inventories. We typically like to keep about 70 to 100 Nissans and Hyundais and probably 30 Mitsubishis, and right now we've got probably 15% to 20% of that at any one time. Heck, we could even dive below that. But we are getting shipments throughout the month, and that's why it's important to come in and see what we have."
RISING PRICES
That ongoing lack of inventory, according to Edmunds, has in turn resulted in rising new car prices, with many consumers paying well above sticker price as they scramble to get their hands on what little inventory is available.
As an example, Edmunds recently reported that the percentage of consumers who paid above sticker price for a new vehicle climbed to 12.7% in April, compared to 11% in March and 8.1% in April of 2020. At the time of the report, that was the highest level Edmunds had on record dating back to 2002.
And according to Jessica Mills, a salesperson with used car dealership Doug Bowmer Auto Sales in Anderson, that combination of lack of new car inventory, coupled with climbing new car prices, has actually been a boon to the used car industry in recent months.
"I've noticed within the past several months, starting probably four months ago or so, people starting to come here more and more, because they just couldn't find many cars at other places," Mills said. "In fact, we've noticed people coming from all over because nobody has any cars. We have the most used cars here in town, and probably the county as well. So, we're doing really well."
However, as with anything that is in high demand, Dorsett, whose dealership also sells used cars, noted that increased interest in used vehicles has inevitably translated to climbing used car prices as well.
"The market in general has definitely seen a move up on used car pricing, and it's because of the supply and demand," Dorsett said. "If there are no new vehicles, that means that the cost of the used vehicles that are out there and available has to go up because there is a demand for that type of vehicle."
That jibes with a July Edmunds report noting that consumers currently seeking relief from new car prices in the used car market might be a bit dismayed by the used car prices they encounter during their searches.
"Tighter inventory and fewer discounts in the new car market are pushing shoppers to seek a reprieve in the used market, and this consumer behavior is what's also driving used car prices to astronomical levels," the report notes. "Car shoppers are used to getting deals, and often far below the sticker price for new, so anyone returning to the car market for the first time in a while is in for some serious sticker shock."