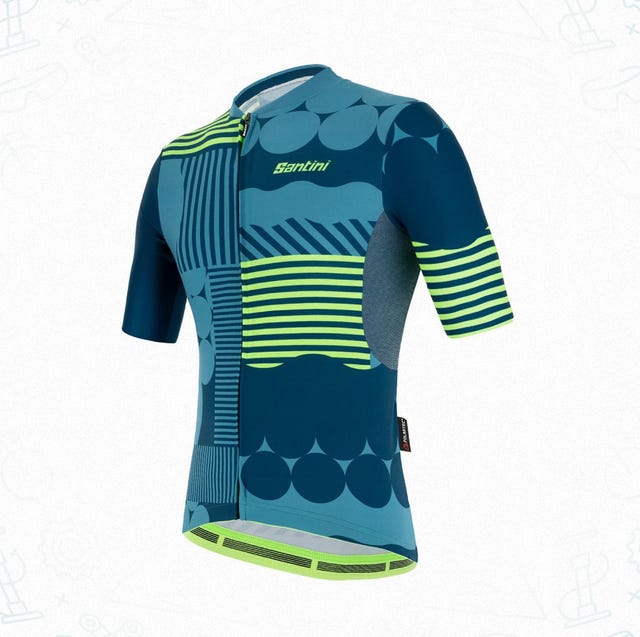 The Best Bike Jerseys for a More Comfortable Ride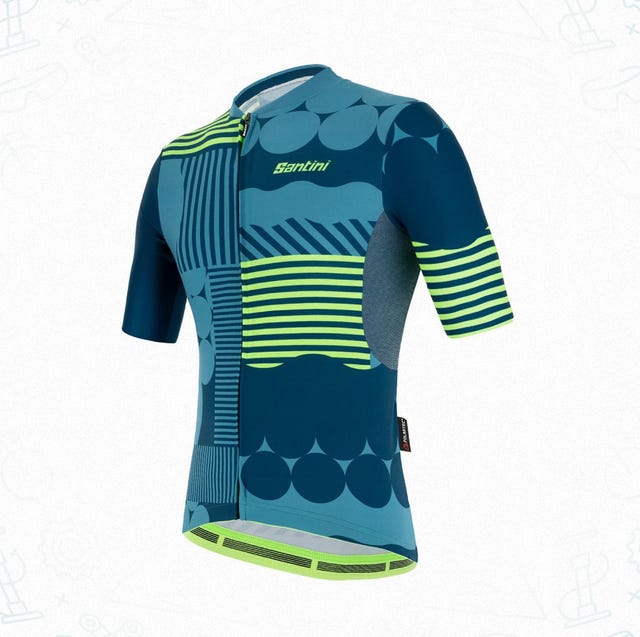 Bicycling; Courtesy Santini
A cycling jersey is an important piece of a rider's kit, and a good one is well worth the investment. While it's true you don't need a bike-specific top, you'll find cycling jerseys are moisture-wicking and designed to help reduce wind resistance, a major make-or-break factor when it comes to ride enjoyment. They're designed to make it easy to access snacks and water without stopping your bike, and their tech fabrics are critical for moisture management to help keep you cool and dry.
There is a huge variety of bike jerseys available these days, including aerodynamic options for fast road rides, temperature regulation technology for the shoulder season, layering options for inclement weather, and jerseys made for durability and endurance.
Best Bike Jerseys
What to Consider
Intended Use
When choosing a cycling jersey, consider the primary type of riding you'll be doing. Are you looking for a form-fitting jersey for aerodynamics on fast road rides? Something looser for all-day comfort on a gravel tour? Do you want a classic mountain bike look, or a more styled road-jersey fit? For hot rides, a lightweight, sweat-wicking jersey with short sleeves is important for moisture management, but windy or cooler rides will be more comfortable with a heavier material that can be layered under a wind jacket or over a base layer.
Features
Most cycling jerseys will have a few main style and feature options to choose from. Look for full-zip or half-zip styles depending on how much venting you'll need, take note of sleeve length and style, choose between high-neck or scoop-neck styles for wind protection, and decide on the number and placement of pockets you'll want for stashing snacks and soft-flask bottles.
Material
Every jersey on this list is sweat-wicking and built for high-output activity, but the percentage of specific materials used varies from style to style. If you want something more form-fitting with added stretch, a higher percentage of Spandex or Lycra is a good bet. Fully polyester jerseys will have a more casual fit. Some jerseys are built with specialty fibers from 37.5 and PolarTec, which increase the comfort and cooling, but those materials can drive the price up.
How We Selected
To choose the best bike jerseys on the market, we looked at cycling apparel designed for a variety of riding styles, durations, and potential conditions. We looked at men's and women's options, as well as the best size-inclusive choices. The jerseys we've featured include a variety of options for all types of riders in a range of price points.
Advertisement – Continue Reading Below
1
Best Overall
Ranger Short-Sleeve Woven Jersey
Mountain-bike specific
Loose, non-binding fit
Key Specs
Sizes: M-XL
Materials: 68% polyester, 31% cotton, 1% elastane
Colors: Tan, gray, blue
Pockets: 1 (chest)
This mountain-bike-specific jersey does double duty as a durable, protective summer riding top that transitions easily to post-ride outings in town. This is built with sweat-wicking DriRelease yarn, has a loose, non-restrictive fit, and features a drop-tail designed for trail riding. We'd love to see another pocket or two on here, but the style is more geared towards riders who might be carrying a pack—a good thing to keep in mind when shopping for mountain bike gear.
2
Best for Thermoregulation
Circuit LTD Cycling Jersey
High-tech built-in cooling
Doesn't ride up
Extra secure pocket
Key Specs
Sizes: S-XL
Materials: 88% polyester, 12% spandex
Colors: Navy blue
Pockets: 4
This jersey uses 37.5 active-particle technology, which works to use your own body heat to evaporate moisture and maintain the ideal core body temperature. This jersey has a UPF 50+ rating, and is streamlined and fitted to avoid chafing and lower wind resistance. The full-length zipper lets you vent for even more temperature control, and the silicone grips on the sleeve and hem keep the jersey in place for the whole ride. This jersey comes with three back pockets as well as a bonus secure pocket for cards or other small items.
3
Best Budget-Friendly Women's Bike Jersey
Women's Cycling Jersey
Secure pocket fits phone
Slim-cut fit
Great color variety
Key Specs
Sizes: XS-XXL
Materials: 100% polyester
Colors: Orange, purple, white with graphics
Pockets: 4
Baleaf makes a variety of comfortable, durable, and affordable outdoor apparel, and this jersey is no exception. We love the moderate neckline that provides draft protection without feeling suffocating, and the smooth full-length zipper for venting. This jersey is lightweight and breathable, with a UPF 50 rating for more sun protection. It comes with three pockets in the back and one secure pocket that can fit credit cards and even a phone.
4
Best For Hot Rides
Attack Cycling Jersey
Lightweight, ultra-breathable fabric
Recycled materials
Reflective elements
Key Specs
Sizes: S-XXL
Materials: 100% polyester
Colors: Navy blue
Pockets: 3
This jersey was built for comfort on extended rides even on the hottest days of the season. Built with a breezy, lightweight Select Transfer fabric, this jersey is exceptionally moisture-wicking, dries fast, and feels like it's barely there once you put it on. The polyester is 100% recycled, and the rear pockets bellow out so you can stash more snacks and quick-grab items.
A silicone rear gripper keeps the jersey from riding, and they've added reflective patches along the material for safety and visibility.
5
Best For Cooler Rides
Cycling Jersey Thermal Fleece
Wide size range
Lightweight fleece lining
Key Specs
Sizes: S-5XL
Materials: Polyester, fleece lining
Colors: Graphic white, black, blue, purple
Pockets: 3
This affordable jersey is made from a wicking polyester with a light fleece lining for early-morning rides, cooler days, and shoulder season outings. The body-mapped design puts the fleece lining where it's needed for insulation, but leaves it out of key venting areas, and the face fabric has UV protection as well. This jersey runs small, so check the conversions and sizing chart before ordering.
6
Best Budget-Friendly Long-Sleeve
Long Sleeve Cycling Jersey
Slim cut
Lightweight and breathable
Key Specs
Sizes: S-XXL
Materials: Polyester
Colors: Gray, black, green, white, tan
Pockets: 4
This long-sleeve shirt is fast-drying, slim-cut, and breathable for rides where you want long-sleeve protection without compromising the moisture-wicking capabilities. The mesh patterning offers more airflow, and it comes with three standard back pockets as well as a secure pocket for cards or keys. Reflective logos around the whole jersey offer an added layer of visibility, and the high neck can be zipped up to protect against drafts.
7
Best for Fast Road Rides
Aero-Lite Road Jersey
Separate zipper pocket
Ultra durable
Key Specs
Sizes: S-XXL
Materials: Polyester
Colors: Black
Pockets: 4
Riders seeking the pinnacle of aerodynamic bike gear, need look no further than this jersey. The body-hugging fit and minimalist neckline keep the airflow as smooth as possible, and the company's warp-knitted fabric provides increased durability and flexibility for maximum riding movement without feeling pinched or restricted in any way. This jersey comes with three larger-capacity rear pockets as well as a zippered pocket for small items or valuables.
8
Best for Extended Comfort
Delta Optic Short-Sleeve Jersey
High visibility pattern
Full-length zipper for venting
Extremely breathable
Key Specs
Sizes: S-XXL
Materials: Polyester
Colors: Graphic green, red, blue, orange / black
Pockets: 3
This is a great go-to option for longer rides where comfort, wicking, and fit matter most. The cut is form-fitting without feeling restrictive, and the aerodynamic build keeps wind resistance to a minimum. This jersey is built with Polartec Power Stretch fabric for a superior range of motion, and body-patterning with Polartec Delta fabric on the back for better moisture wicking.
The jersey also comes with a full-length zipper and a technical cut for increased comfort without pinching, riding up, or chafing.
This content is created and maintained by a third party, and imported onto this page to help users provide their email addresses. You may be able to find more information about this and similar content at piano.io
Advertisement – Continue Reading Below