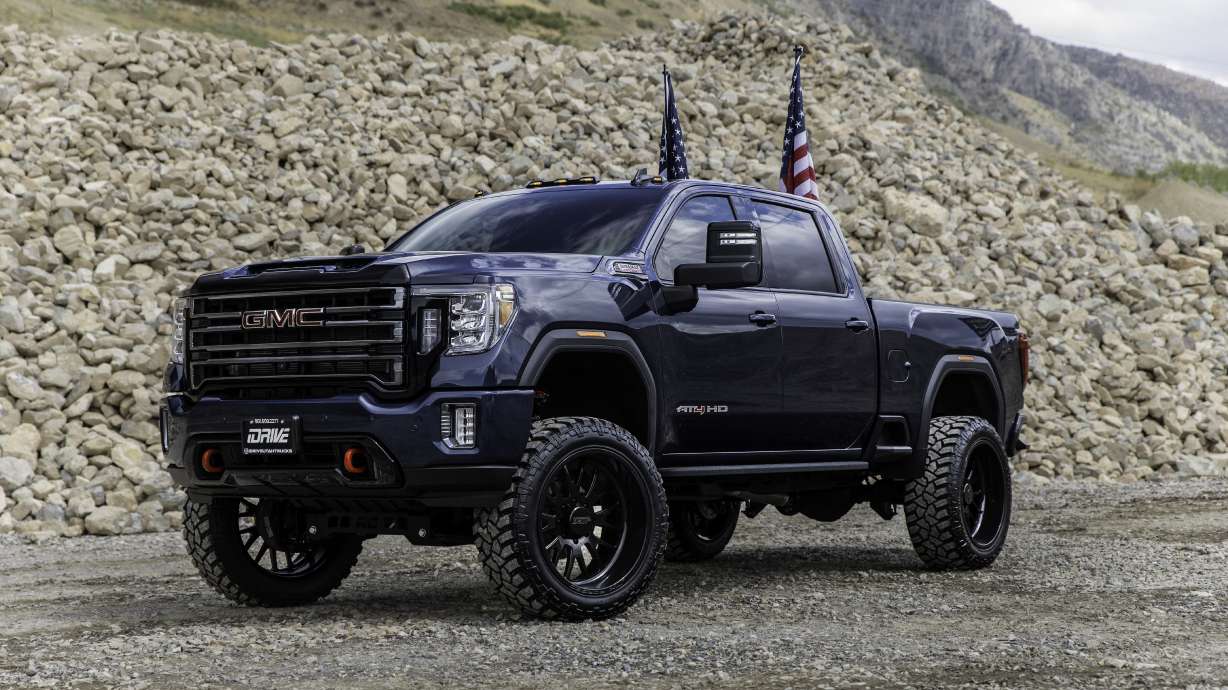 7 options for making your truck into a customized dream ride
Estimated read time: 6-7 minutes
Trucks are a big deal in Utah. And for good reasons! Trucks are spacious, comfortable, versatile in their capabilities and awesome looking. It's no wonder they're so popular as family haulers, commuters and everything in-between. And yet, with so many trucks on the road, the last thing you want is for yours to blend in with the rest of them.
Thankfully, you can make your ride stand out with just a few simple upgrades. Or, if you'd rather have your next truck customized before you purchase it, iDrive Utah Trucks will have you set up in no time. Specializing in fully-customized rides right off the showroom floor, iDrive Utah Trucks has some of the coolest trucks available in Utah, with over 140 of them available right now.
Want to make your truck more special? Here are seven ways Utah truck owners can customize their rides (or have iDrive Utah Trucks do it for them).
Lift kit
It might be an old trick, but a good, old lift-kit is a tried and true way to make your truck stand out.
Lift kits do what the name implies: they lift the truck higher into the air by modifying the suspension. According to Motor Trend, most lift kits raise the truck anywhere from 2-10 inches. Lift kits are usually fairly technical to install and may necessitate changes to shocks, springs, control arms and potentially even brake lines and drive shafts, so expect to pay a pretty penny depending on the kit you select.
When finished, your truck will look awesome, so who cares about the price tag, right?
Leveling kit
Leveling kits are like a lift kit, but much less invasive and expensive. Leveling kits simply raise the front end by an inch or two, thus "leveling" the truck's appearance. Leveling kits typically only require spring spacers or torsion keys to get the job done and can be installed for a minimal cost.
Leveling kits are a great way to keep a "close-to-stock" appearance while allowing for a larger set of tires under the wheel wells. For the money, a leveling kit is a no-brainer. iDrive Utah Trucks installs leveling kits on a good portion of their trucks and given the sharpened appearance one of these kits offers, it's easy to understand why.
Wheels and tires
One of the best and simplest ways to make your truck your own is a new set of custom wheels and tires. Even in stock form, many trucks can handle a larger tire size, explained Kern Campbell of Four Wheel Trends. Too large and you'll start to rub on the fenders, but increasing the size by an inch or two should be just fine and will make your truck look instantly more aggressive.
Wheels and tires aren't cheap, but if you want your truck to have a unique look, they're a must.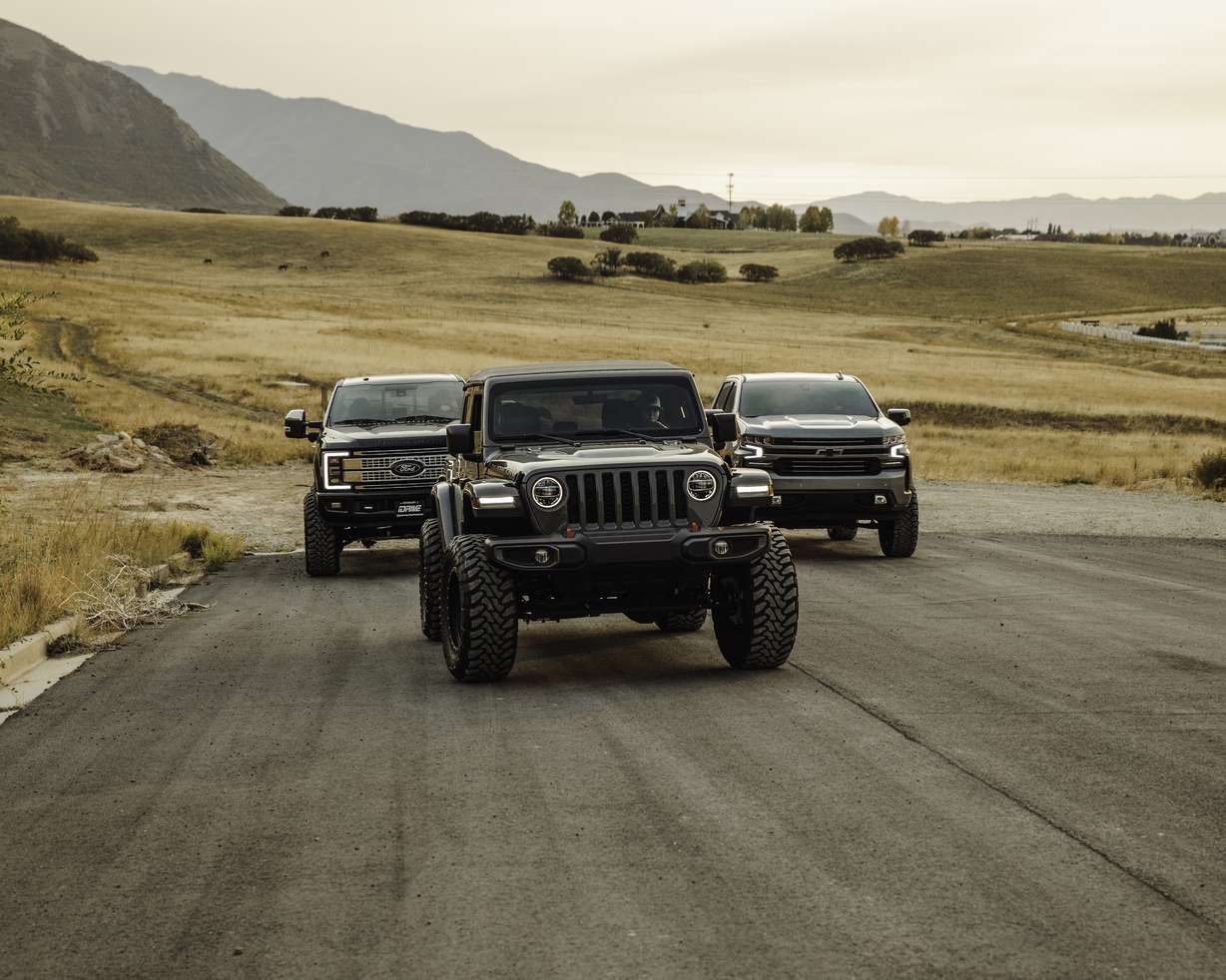 Ceramic coating
Not really a mode of customization, but a good ceramic coating is one of the best things you can do when spending money for a truck.
For decades, waxes and sealants were the go-to solutions for preserving paint and making it shine. Now, ceramic coatings have taken over as the gold standard. Offering a long-lasting gloss finish and excellent paint protection, ceramic coatings are a great solution for long-term, low-maintenance paint protection.
Ceramic coatings, when done right, are more expensive than a simple detail, but the benefits of a coating are worth it. Your vehicle will look better than new and will take very little of your time to maintain, according to vehicle rating company JD Power. In many instances, after application all that is needed to clean your vehicle is a quick spray off with water, or light hand washes at home.
Trucks are some of the most expensive vehicles on the market, you owe it to yourself to protect your investment with a ceramic coating.
Vinyl wrap
A professionally applied vinyl wrap is hands down one of the coolest and most unique ways to make your truck stand out from the crowd. If you're willing to pay, the customization possibilities are endless. Any design, color, pattern, or image you want is possible for wrapping your truck in.
Want your truck to be bright orange in matte or brushed stainless finish? No problem. Or how about some stripes or a plaid pattern? That's possible, too. Whatever you want, a professional shop can do — without scratching or damaging your paint. Check out this video where a local shop adds a Borderlands game theme wrap to a truck.
Speaking of paint, a vinyl wrap will also keep your paint looking fresh, new and untouched for years to come. Want to let your paint shine? Just peel off the wrap and enjoy!
Paint-matched trim
This recommendation is a little more work, but if you're willing to be patient, it's worth it. There are lots of little pieces on every truck that are black and unpainted. These could be trim pieces like fender flares, grille surrounds, bumpers and others. If you want your truck to be something truly special, getting those paint matched will look amazing.
iDrive Utah Trucks does this all the time, and it's striking to behold. Paint matching trim pieces show other truck owners that you go the extra mile in taking care of all the details that are usually overlooked.
Tint
Given how hot it gets in Utah's summers, it's surprising to see how many trucks are not tinted. Quality window tint can block up to 99% of UV rays, keeping your car's interior much cooler than an interior without tint. Tint also protects your truck's interior from the damage UV rays can take on plastic, rubber and upholstery over time.
Tint also has aesthetic appeal, giving your truck a styling step up from the fish-bowl look from the factory. Utah recently updated its tint laws, allowing for deeper tint on the front driver and passenger side windows.
The bill passed "allows automotive tint limits to be relaxed a bit, reducing the visible light transmission rate of a front side window from 43% to 35%. It also allows for a 5% tolerance to account for variables, meaning the owner of a car with a 30% visible light transmission rate wouldn't get a ticket, either," wrote Carter Williams for KSL.com.These bill changes are music to the ears of those wanting to have their truck looking as fresh as possible.
If these recommendations sound intriguing yet overwhelming, you may be better off buying a new truck from iDrive Utah Trucks with all these upgrades already installed at the time of purchase. iDrive does a great job at making your next truck special, without the hassle of you having to put in the work.
Contact iDrive Utah Trucks at their website today, or in-person at their dealership in Orem.
×
More stories you may be interested in