E.C.D. Automotive Design | Vehicle Restoration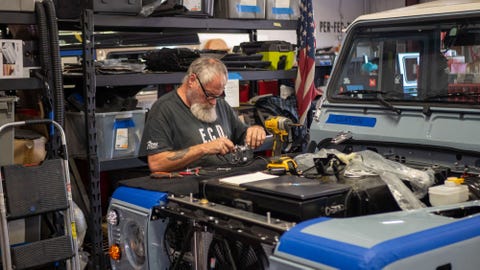 Craftsmanship is a universal language, and a massive component of the aftermarket automotive industry. Whether that's restoring your grandfather's pickup or building out a modern hot rod from the ground up, we're here to see it. That's why we recently flew down to Kissimmee, Florida, to visit E.C.D. Automotive Design, a small but mighty shop that transforms classic Land Rovers into eclectic vehicles with modern components underneath.
Now, vehicle restoration and customization are divisive topics. While classic car enthusiasts may cry foul and wax poetic about the rides of yesteryear, we take modern automotive technology for granted. Purists often fail to mention that many of their old rigs are actually not the nicest to drive. That's where a shop like E.C.D. comes in: applying its resto-mod approach to classic Land Rovers, allowing you (for a not insignificant amount of cash) to enjoy the timeless aesthetics without the pitfalls associated with heritage motoring.
Touring the Shop
Tom Humble and his brother Elliot founded E.C.D in 2013. What began as a tiny operation and showroom with a handful of employees working 18-hour days has become an outfit of over 50 employees who have a 30,000 square-foot facility at their disposal. The shop houses a design studio where prospective buyers can spec and option out a project vehicle. After Scott Wallace (a corporate business mogul and petrolhead) came onboard, E.C.D. really began to find its footing. Later this year, the team plans to expand into an all-new 100,000 square-foot shop—complete with its own off-road test track.
As Wallace walked me through the shop—which the staff calls the Rover Dome—it became apparent that E.C.D. wants absolute control of every build stage. With every production bay dedicated to a specific part of the customization process (upholstery, teardown & fab up, quality control, paint & body, drivetrain) we passed, Wallace had a story on tap of how the staff had refined the processes and components going into each build. He mentioned one day he walked into the office to a pile of aftermarket brake rotors that didn't provide adequate stopping power.
The Customization & Design Process
While Florida residents will be able to visit E.C.D.'s design studio, those located outside of the Sunshine State will go through a virtual brochure with John Price, head of Sales & Design. Customers have the ability to pick everything from the powertrain, wheels, tires, bumpers, paint, and body panels along with interior customizations like seating layout, upholstery, steering wheel, and gauges just to name a few.
I went through a condensed version of the customization process over the phone with Price, and it took me the better part of an hour to option out the Defender 90 that you see below. This began with choosing between a Defender 90, 110, or 130 to customize. (For those who aren't well versed in Land Rover jargon, the numbers refer to the length of the wheelbase in inches.) As someone who has dreamed of owning a race-ready Bowler-prepped Defender since I was a kid, I went for a Defender 90 with jet black 18-inch Bowler wheels.
Next came picking what powerplant E.C.D. would squeeze under the hood. Since I approached this like I was building a dream car, I went for a supercharged 650-horsepower LT4 V8. Keen readers will know that it's the same engine that Chevrolet designed for the C7 Corvette, but there's no reason why the GM powerhouse doesn't belong in a Defender—mainly due to its booming eight cylinders.
While even the idea of a V8-powered Defender 90 puts a smile on my face, my favorite part that we added has to be the steering guard with the Popular Mechanics logo engraved into it. Once the design was complete, E.C.D.'s in-house graphic designer, Tyler Godby, created a render of the vehicle, which I could then view on my phone or computer.
Driving Project Britton
While the Defender I customized only exists in computer models, I had the chance to drive Project Britton, the first electric Defender that E.C.D. has ever built, during my time in Florida. Fitted with a single-motor Tesla propulsion system (sourced from the Model S or Model X), the vehicle actually makes a surprising amount of noise upon startup. While most of Elon's vehicles are dead silent, Project Britton lets a plethora of quirky noises into the cabin. And that's a good thing. From a standstill, the electronic systems let out a faint hum, but once you get going, that ramps up to a high-pitched whir. I'd almost think of it as electric induction noise, which makes itself known once you put your foot down.
Despite weighing more than a medium-sized mountain, the silent-but-deadly Defender isn't afraid to boogie. With 450 horsepower and 332 pound-feet of torque on tap, Project Britton can slingshot to 60 mph in roughly 5.5 seconds—an E.C.D. estimated 0-60 time. If true, that means it would be about as fast to 60 as the latest Volkswagen Golf GTI. For those able to afford the estimated $300,000 asking price for a vehicle like Project Britton, I can say that it's absolutely tremendous to drive and every second behind the wheel makes you feel special. However, it isn't without its foibles.
When it comes to handling, classic Defenders aren't the most nimble machines on the road. And Project Britton is no exception. It's the first generation of a totally new vehicle architecture for E.C.D., and it certainly feels like it from behind the wheel. It still judders at low speed, the turning radius isn't all that great, and even getting it into park is quite an involved process. But that's not such a big deal as Defenders are most at home off the beaten path. Unfortunately, I didn't get the opportunity to take it off-road.
For such a large vehicle with over 400 horsepower, Britton needs to stop substantially better than it can accelerate. That's why E.C.D.'s aftermarket braking package didn't perform nearly as well as I expected it to. This really threw me for a loop, as Project Britton is fitted with six-piston Brembo calipers up front and four-piston Brembos in the rear, which clamp down on the brand's performance rotors. However, braking is exceptionally difficult to get right in an electric vehicle, as the motors regenerate electricity when coasting or braking. This means that a computer has to blend the deceleration from regenerative braking with the mechanical force when you press the brake pedal. Companies like Tesla have had nearly decades to dial this in, while E.C.D. is retrofitting the same powertrain to another vehicle.
While Project Britton is powered by a Tesla drivetrain that promises an estimated 220 miles of range, it's not as plug-and-play as you'd think when it comes to charging. Long story short, there's no ability to fast charge it quite yet. The best you can do is level 2 charging, which will top up the 100-kWh battery in five hours, while using a trickle charger will take ten.
Because of these inherent shortcomings in charging urgency, the vehicle uses an SAE J1772 plug instead of Tesla's proprietary connector. This means that while you can't plug into a Tesla Supercharger, you'll still be able to use most other charge points in your area, only at lower speeds. E.C.D. says it's working on getting around the issue, which will grant customers access to the convenience and peace of mind associated with supercharging stations.
When the Series 1 Land Rover made its debut on the road, it was the definition of form follows function. This continued in the interior with the Series 2, Series 3, and then the Defender, which arrived in 1983. E.C.D. keeps the same feel of the original vehicle while bringing it up to modern spec, giving you the ability to customize nearly every square inch of the vehicle.
To offer some perspective on the level of customizability, Project Britton arrives with E.C.D.'s Puma-style dashboard, featuring an Alpine Floating Halo head unit. With a 2+2+2 layout, the front seats (Recaro Orthopaed's)—along with the second and third rows—are upholstered with sand beige leather and dark beige stitching. Sitting in the driver's seat, you'll find an Evander wood steering wheel, which is flanked by a set of bespoke gauges for the EV setup. Instead of a fuel gauge, E.C.D. gives you readouts for your battery's temperature and state of charge.
From the driver's seat, I was very impressed to see the addition of a modern blind-spot monitoring system. Fitted neatly into both a-pillars, the notification lights hide away nicely when not in use. Other modern additions include heated and ventilated seats, as well as a wireless charging pad integrated into the center console.
So, Should You Buy One?
While an E.C.D.-built Defender is most likely out of the realm for many motorists, these automobiles are handsome examples of British and American engineering at work. Case in point: Every build starts with a Defender shell sourced from the United Kingdom—with most of them having spent a majority of their time overseas. However, a quick peek under the hood will show myriad components from American manufacturers. This includes the GM-supplied V8 engines on offer (LS3, LC9, LT1, LT4) as well as the Cummins Diesel powerplant. Look even further and you'll likely find Fox suspension, Borla exhaust, or even BF Goodrich tires.
If you're looking to stand out among the G-Wagons and Range Rovers, and can afford the considerable cost, an E.C.D. build will do the trick.
This content is created and maintained by a third party, and imported onto this page to help users provide their email addresses. You may be able to find more information about this and similar content at piano.io