How to Choose the Best Bicycle Light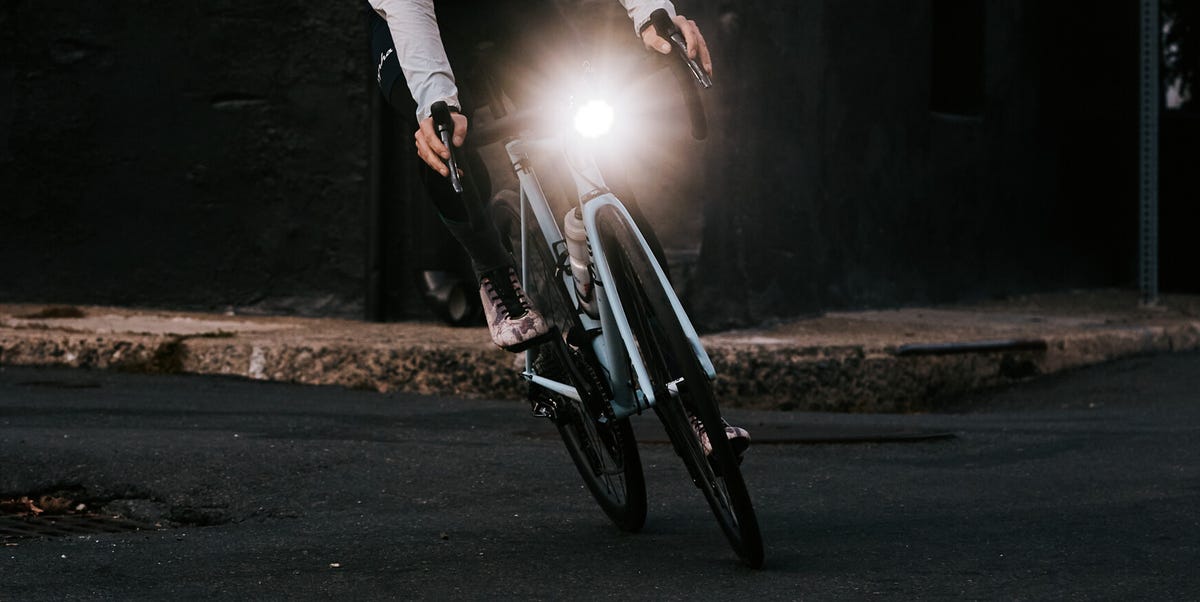 Over the past decade, lights have gotten brighter, smaller, and more lightweight, all while increasing claimed run times. Two key technologies have driven this progress: LED lamps, which produce more light per watt than older halogen bulbs, and lithium batteries, which store more power in an ever-shrinking package. Thanks to these improvements, lights are significantly better than ever, as well as more affordable. This is just a simple fact, not marketing hype. But there's always been a lot of hype about bike lights, so we tested the latest crop to help you find the best lights for your ride.
---
---
Shopping For a Light
Think about what you want your lights to do. Some lights are meant to make you more visible to other road users while others allow you to see. For commuting, it is often more important to be visible to others rather than illuminate the road ahead, except in unlit areas. All of the lights in this test include a flash mode for this reason. Lights that flash can draw attention and make you more visible compared to a steady light which would have to be substantially brighter to overcome the ambient light from street lamps and car headlights. We also recommend using a flashing rear light when commuting or road riding at night. Check the sidebar for our recommendations on some great rear lights.
A good place to start when shopping for a front light is to think about how much light you need. For reference, a typical halogen car headlight will put out around 700 lumens in a low beam and 1200 lumens in a high beam. For nighttime mountain biking or road riding on back roads with no street lights, you'll likely want lights that put out a minimum of 600 lumens. It can't hurt to have more, but this is our recommended starting point.
It is tempting to use max lumen output when shopping for a light, but as our testing shows, this often does not indicate how much actual light a given light will produce throughout your ride. A better place to focus is on a light's secondary mode or its medium setting. This is where many lights deliver more consistent light output over a longer, more usable period of time. For example, the Specialized Flux 1250 has a claimed run time of just 90 minutes at its max output, but on its medium setting, it can run for three hours at 600 lumens (coincidentally what the light was putting out after running on high for 30 minutes in the lab).
For mountain biking at night, you'll want to have two lights: one on your handlebars and one on your helmet. If you can only afford one light, a helmet mount is better when mountain biking, as you're often looking beyond where your bike is pointed.
In car-dense areas, it's often more important to be visible to others rather than illuminating the road ahead. All the lights in this test include a flash mode for this reason. We also recommend using a flashing rear light when commuting or road riding at night.
One final thing to consider is beam pattern, which can sometimes be the secret sauce that makes a good light great but can also be subjective. For instance, many mountain bikers will prefer to use a wider beam (or flood) light on their bars for general trail illumination. Then pair it with a more focused spotlight on their helmet to throw as much light as possible in the direction they are looking. Commuters, on the other hand, might want a light that combines the two functions by using multiple LEDs with different lens geometries (like the Specialized Flux) to simultaneously produce both kinds of beams.
---
How We Tested
Our test team put several of the most popular lights on the market through extensive lab and field testing. In the laboratory we used an integrating sphere, which is a hollow instrument with a white reflective interior that scatters light evenly inside, allowing us to take accurate measurements of that light using a light meter. Our sphere was built by test editor Brad Ford and calibrated with the help of product engineers at two companies that make portable, high-performance LEDs.
For our test, we recorded the reading on the light meter every 30 seconds for the first three minutes. Measurements were again taken at the 5, 10, 15, 20, 25, and 30-minute marks. This is similar to the widely adopted standardized methodology used by light manufacturers. The findings show how close our test samples came to brands' advertised maximum lumens and how steady, or rapidly, each light's brightness declined over time. Each light was tested with a cooling fan directing air over it to simulate the airflow that the lights would get if they were in motion on a bike. A drop-off in light output over our 30-minute test period was expected. Conventional light design causes light output to decrease over time, often starting as soon as the light is powered on. This decrease is due to the variable nature of electrical circuits, but it's also a by-product of manufacturers regulating power delivery to balance brightness, battery life, and heat management.
None of our test results exactly matched the manufacturers' claimed lumens, but most were within a reasonable 10 percent margin. Three of the lights in our test, the Lezyne Macro Drive 1300XXL, Nite Rider Micro 900, and Specialized Flux 1250, hit their claimed maximum output. However, at five minutes on their high setting, all three lights faded below their claimed max.
More crucial for riders, we also spent many hours riding in the dark with these lights strapped to our bars and helmets. We mixed commuting miles with night rides on mountain bike trails and on the road, using the lights for intended and unintended purposes. We gauged battery life based on real-life usage, did our best to shake the lights loose to test how well their mounts work, and evaluated the effectiveness of the beam pattern.
---
Everyone Should Have This Light
Bontrager Ion 200 RT Front Light
Weight: 40g | Charge Time: 2 hr | Run Time on Max: 1.5 hr
The Ion 200 isn't meant to light up the night. Rather, it's designed to help you be seen on your ride regardless of the time of day. Its daytime flash mode is bright enough to help you be noticed by drivers up to 1.2 miles away. Once it's dark out, the Ion 200 puts out just shy of its 200 lumens claimed max, but after 30 minutes, it experienced a drop in output of 56 percent.
The Ion 200 should never be your primary source of light, but if you're caught in the dark, it can produce enough light for a short time to get you somewhere that's better lit. The rubber straps on the Ion attach tool-free to almost all handlebars, making it easy to remove or swap to a different bike. The light can also rotate to be better oriented depending on where you've decided to mount it.
---
Best Budget Light
Cygolite Metro Plus 800
Weight: 140g | Charge Time: 5 hr | Run Time on Max: 1 hr
The Metro Plus 800 is the cheapest light in this test, but in our lab testing, it had the smallest falloff from its peak output, dropping just 9.8 percent over 30 minutes. The beam pattern is very close to a spot, but there's enough light thrown to the side to feel comfortable using this light on the road. The metro plus would be a good backup or helmet light (paired with a wider beam on the handlebar). The main downside of the Metro Plus is its short run time: only an hour on its max output setting.
---
Best For Mountain Biking
Light & Motion Seca Enduro
Weight: 501g (with battery pack) | Charge Time: 5 hr | Run Time on Max: 2.5 hr
The Seca Enduro can put out a lot of light. Even though in the lab it fell short of its claimed 2,500 max lumen rating, it was still pumping out nearly 2,000 lumens 30 minutes into our test. (This was the second-best dropoff rate in the bunch.) The Enduro's main drawback is its bulk and heft. It's 501 grams for the whole package, and you'll need to find a place to mount the battery as well.
The wide beam pattern and ample light output easily lit up the trail or road in front of my bike. On a lower mode of 625 lumens, the Enduro boasts a run time of 10 hours, so you don't have to worry about running out of light.
---
Best Commuter Light
Specialized Flux 1250
Weight: 142g | Charge Time: 3 hr | Run Time on Max: 1.5 hr
The Flux sandwiches two lights next to each other in a wide-body, each with a different lens geometry. One is a spotlight beam, while the other beam functions as a floodlight. This setup works surprisingly well, and the flux lights up a much wider area compared with single-light designs. But what makes it great for commuters is the ability to run the spotlight as a flashing light while still using the floodlight to light up your immediate surroundings. This would normally require two separate lights, and we found the feature particularly useful commuting on the road.
We don't recommend the Flux for trail riding, for several reasons. In the lab, the Flux was among the worst lights in our test, with the sharpest falloff in output. Its shorter run times mean we would not recommend it for mountain biking without a backup light. Finally, we found that the clamp itself was finicky. It would sometimes feel fully locked in when it really wasn't. This resulted in a tester losing the flux off their bike. Fortunately, it was easy enough to spot in the dark. Hopefully Specialized will redesign the clamp for a more positive click to signal secure attachment.
---
Best Small Light
Nite Rider Lumina Micro 900
Weight: 130g | Charge Time: 4.5 hr | Run Time on Max: 2 hr
The Micro 900 is a simple light that packs a lot of great features into a compact package. It did not perform well in the lab, dropping 50 percent of its claimed max output in 30 minutes. However, we didn't notice this dropoff (from max) while riding with the light, as we usually ran it on medium rather than max. On the mountain bike, the Micro 900 should be combined with another light, either bar- or helmet-mounted. It can also work as a backup light; it's so small it's not hard to carry.
While the Micro 900 is too small to be your only light for trail riding, you could buy three of them (and still have money left) for the price of our best-rated Seca Enduro mountain biking light. So if your budget is tight and you want to get into the woods at night, grab two of these—one for the bar and one for your helmet—and you're good to go. On the road, we found it to be very useful as our main light source riding through a mix of well-lit city streets and dimmer suburban lanes.
---
Best All-Around Light
Lezyne Macro Drive 1300XXL
Weight: 208g | Charge Time: 3.5 hr | Run Time on Max: 2.5 hr
The Lezyne Macro Drive 1300XXL impressed us with its long list of features, reasonable price, and excellent performance both in the lab and in real-world testing. At 2.5 hours, it has one of the longer run times on max of our test models. This makes it useful when riding deep in the woods. After 30 minutes of our lab test, the macro drive still produced over 1,000 lumens, dropping only 17 percent from its claimed peak output of 1,300 lumens. The Macro Drive uses a squat, oval-shaped beam pattern. It still functions, more or less, like a spotlight but with a bit more light thrown side-to-side. It's a great light that can do it all at a very reasonable price. The Macro Drive's only drawback is weight. At over 200 grams, it's noticeable on the helmet, especially on rides longer than an hour.
---
Get A Rear Light Even If You Don't Ride At Night
At night a rear light is critical. If you're riding in a group, it's good practice to set your rear light to steady instead of flash. Here are three of our favorite models.
Ascher USB Light Set
Weight: 44g (per light) | Charge Time: 4 hr | Run Time on Day Flash: 9 hr
For those on a tight budget, it's hard to beat the Ascher USB light set. For $16, you get front and rear flashing lights that are USB-rechargeable and easy to put on any bike. They include straps for mounting on a bike, as well as clips for putting them on your bag or jacket.
Lezyne KTV Pro Alert
Weight: 56g | Charge Time: 4 hr | Run Time on Day Flash: 7.5 hr
To help alert drivers approaching from behind, the KTV Pro changes its flash pattern as the rider decelerates and comes to a stop. The light will fit on aero-shape or round seatposts and features an integrated USB stick for cord-free charging.
Bontrager Flare RT
Weight: 40g | Charge Time: 2 hr | Run Time on Day Flash: 6 hr
This light won a 2021 Bicycling Gear of the Year for good reason. It's lightweight, compact, and exceptionally powerful. It's bright enough to alert drivers during the day from 1.2 miles away and can easily be swapped between bikes. Even when riding during daylight hours, a blinking rear light can help improve a rider's visibility to approaching cars.
For more great bike lights check out The Best Bike Lights for Every Kind of Ride.
This content is created and maintained by a third party, and imported onto this page to help users provide their email addresses. You may be able to find more information about this and similar content at piano.io