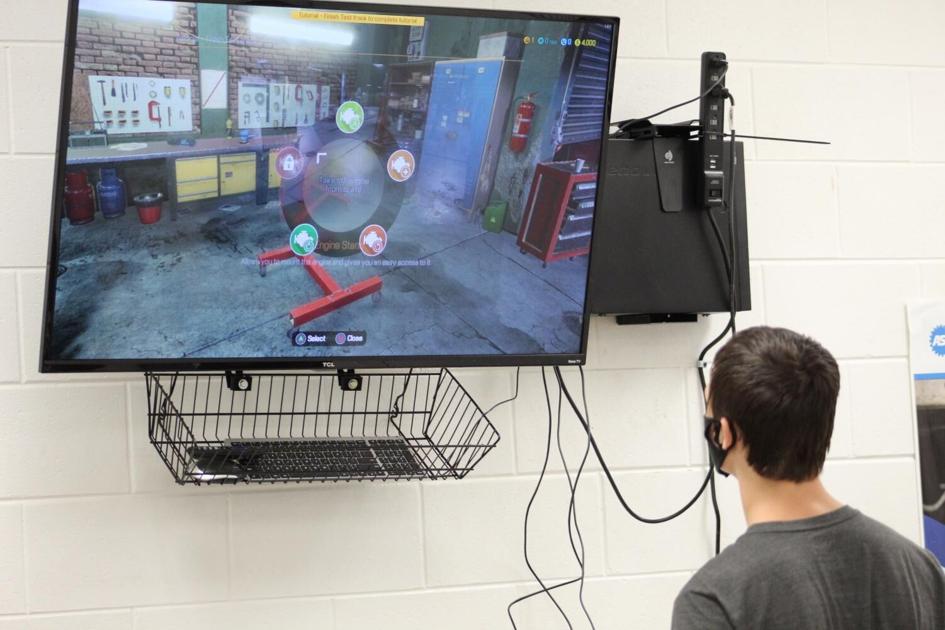 Innovative automotive education at Louisa County High School | News
One of Louisa County High School's main goals is to send students off into the world with real-world skills. Many students drive yet know nothing about car maintenance or what to do when there is a flat tire or loose bolt.
Junior Jacob Bundrick was at home one day playing a video game called "Car Mechanic Simulator," when he was struck with an idea. 
"Car Mechanic Simulator is an immersive simulator game that puts you in the role of a mechanic, who owns a shop and completes car maintenance and repair jobs," Bundrick said. 
After Jacob's father Bo Bundrick, the schools' director of Career and Technical Education and Workforce Development, walked in on him one day playing the game, they realized that it was not only fun but could be implemented in more ways than just entertainment. 
"The game is very in-depth and accurate to how mechanics operate in the real world, from balancing tires to making sure every bolt, clip and spark plug is secure and in place, before the job is finished," Jacob said.
He thought the game could be used as training for the students in automotive classes at the high school and be a fun way for students to practice skills while not in the shop, as well as learn the parts of a car and their locations. 
The high school's automotive classes now use the game in the classroom as a learning tool but also a fun way to educate. 
"Jacob and I took the initiative to promote this to our local Rotary [Club] and they have helped fund this project, so we've installed eight television monitors in classrooms as well as gaming systems with all the remotes and keyboards," Bo Bundrick said. 
"There are several things students can pick up from the game including practicing part identification, syntax and basic removal and installation," Louisa County High School Automotive Teacher Shane Robertson said. 
"The randomization really adds to the content and delivers it in a way that is beyond my control or abilities," he said. 
Robertson said the cool thing and game-changer in his opinion are that the students take customer complaint calls on the game to find and fix issues that are wrong with the customer's car. 
"The game has helped me advance my knowledge of vehicles, as I am now available to open the hood of a car and identify many of the parts [that are] visible," Jacob Bundrick said. 
Anna Turner is an LCHS junior and The Lion's Roar copy editor. Read more student news at lchsnews.com.