The 10 Best Bike Helmets for Women in 2022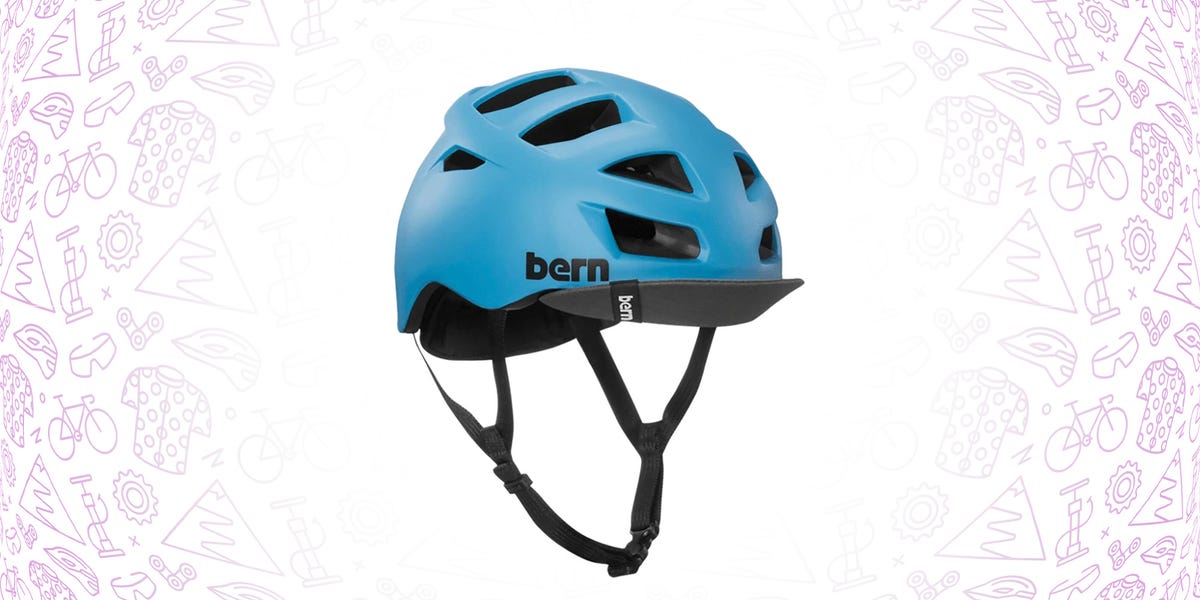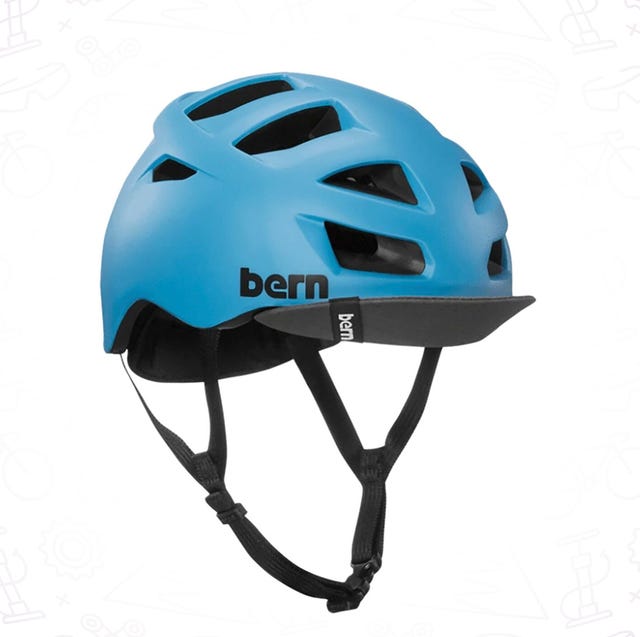 Staff, Courtesy of Bern
A well-fitting helmet with up-to-date technology is a non-negotiable item when it comes to maximizing your safety during bike rides. A bike helmet should provide lightweight, breathable protection and should fit securely on your head. However, it's not always easy to find helmets that will fit right when shopping online; that's why we've chosen only helmets that can fit securely on smaller heads, as well as having lower profiles for aerodynamic purposes. These bike helmets for women are ideal for a range of riding styles, including mountain biking, road biking, and commuting.
Best Bike Helmets for Women
What to Consider
Intended Use
Road, commuter, and mountain bike helmets can all work for different types of cycling, but some specialty design elements set them apart from one another. Road bike helmets will be lightweight and aerodynamic to help maximize efficiency. This means a lower profile and larger vents. A mountain bike helmet is designed to have increased coverage around the back of your head for multidirectional crashes, plus a larger visor and smaller vents to prevent debris from poking through. Commuter or generic helmets often look more casual, can have a less technical style, and come in a wider variety of designs and styles.
If It Uses MIPS Technology
MIPS (Multi-Directional Impact Protection System) is a thin layer of material built into the inside of a helmet, often called a "slip liner." This is anchored to the shell of the helmet at strategic points, but can still move on its own. This allows the helmet to rotate independently from your head, which helps absorb energy during impact. This means less force is transferred to your skull and brain. A helmet utilizing this technology will usually have the MIPS acronym in the model name or the description.
Fit
We highly recommend checking the manufacturer's size instructions to ensure the helmet fits before making a purchase. A helmet should fit snugly without pressure points, and stay in place when you shake your head up and down or side to side. Helmets are designed to protect against falls from a range of angles, and a correct fit ensures not only that the helmet stays on your head in the event of a crash, but that the positioning is correct for maximum protection. Many helmets have several size options, and some have adjustable dials to loosen or tighten more precisely.
How We Evaluated
To determine the best women's bike helmets on the market, we looked at the most popular—and safe—helmets for each type of riding, from mountain biking to urban commuting. We checked a variety of price ranges, styles, and intended uses, and ran our picks by local experts and avid mountain bikers, road cyclists, and bike commuters. Most are women-specific, and a few are unisex, but all of our choices offer solid size ranges and sleek styles.
Advertisement – Continue Reading Below
1
Most Versatile
Trella MIPS Adult Urban Cycling Helmet
Dial adjustment
In-mold construction for better venting
No visor
Universal fit, but no true size options
Key Specs
MIPS: Yes
Color: Yellow, silver, black
Size: Universal
This helmet is more tech-styled than urban, but we love that it can be worn as comfortably commuting as it can on a long road ride, and the back is extended down for added protection, which means this helmet is suitable for mountain biking or gravel riding, as well.
Giro's proprietary Roc Loc MIPS system means a customized fit, and this helmet is well-vented, lightweight, and durable enough for everyday use. This helmet has a universal fit, which will work for most women, but be sure to check your measurements before buying.
2
Best Urban Commuter
Allston Helmet
Visor isn't fully removable
Key Specs
MIPS: No
Color: Black, tan, blue
Size: Small, medium, large
This all-around urban styled helmet is at home on a work commute, pleasure ride, or bike messenger route. The helmet is built with 16 large vents, and has a moisture-wicking liner for hot days on asphalt. This is a newer style, with a more rounded build as opposed to the sleeker, more technical looking helmets on the market.
We love the flip-visor, which can be raised or lowered depending on weather and visibility needs. The helmet is built with Bern's proprietary Zipmold+ Technology, which gives this model a lower profile and lighter weight while still being safe and strong.
3
Best for Hot Rides
S-Works Prevail II Vent MIPS Helmet
Lightweight
Excellent airflow
Crash sensor technology
Key Specs
MIPS: Yes
Color: Black/red, tan, black
Size: Small, medium, large
This lightweight, incredibly well-ventilated helmet will be your best friend on your hottest rides. This helmet features Specialized's new 5th Dimension Cooling System, which eliminates extra foam from the middle and sides of the helmet to create more open air channels and improve airflow.
This helmet still uses MIPS, but a more minimal version of the technology to help keep the weight down. This S-Works Prevail is a splurge, but it also uses the brand's ANGi Crash Sensor, which can be paired with your phone to alert emergency contacts in the event of a crash.
4
Best Budget-Friendly Package
Vasona MIPS Helmet
Removable visor
Versatile styling
Budget-friendly MIPS option
Key Specs
MIPS: Yes
Color: Black, teal, white, titanium
Size: Universal
We don't mess around when it comes to safety, so while this isn't the cheapest bike helmet on the market, for a MIPS helmet from a well-respected company, it's extremely budget-friendly. This helmet uses Giro's in-mold polycarbonate construction for the hard-shell protection, with impact absorption from the EPS liner. The helmet has 22 vents and adjustable dials, and is well-suited for everything from casual in-town rides to longer excursions and mountain bike outings.
5
Best Vintage Commuter Style
Heritage Collection
Anti-theft compatible (with U-lock)
Lots of color options
Affordable
Not for technical riding
Less venting than other helmets
Key Specs
MIPS: No
Color: Gray, mint, black, titanium, rose gold, navy, orange
Size: Small, medium, large
This stylish helmet comes in a wide variety of colors, features an easy-to-use magnetic buckle, and has elegant vegan leather straps to complete the look.
This is a functional helmet that manages to be safe, durable, and affordable all at once. It comes in a range of sizes and has a dial-fit system for customizable snugness.
It does weigh somewhat more than more "athletic" bike helmets, and since it's not optimized for technical riding, it won't vent as well. However, as a bonus, Thousand is a carbon-offset, climate-positive company.
6
Worth the Splurge
Helios MIPS Spherical Bike Helmet
Advanced protection
Effective airflow
Key Specs
MIPS: Yes
Color: Black/yellow, black/red, black, white
Size: Small, medium
This helmet is a splurge, but it's also one of the most high-tech options out there. This model uses a dual-shell design called Spherical MIPS, which means it has a layer of protection that slides and (very slightly) rotates under the other layer, allowing for more absorption and give upon impact from any direction. This is also ideal if you crash on a loose surface that shifts on impact, making this a top contender for gravel riders.
We also like the brand's Roc Loc 5 Air fit system, which cools more effectively, thanks to a design that allows the helmet to sit slightly elevated above the top of your head.
7
Best for Mountain Biking
Tectal
Fuller mountain bike coverage
Good airflow
Expensive
Fit can be awkward
Key Specs
MIPS: No
Color: Teal, pink, blue, navy, white, black, orange, maroon, green
Size: XS/S, M/L, XL/XXL
This helmet is optimized for challenging days on singletrack, with plenty of coverage from the extended visor as well as its extensive temple and back-of-head protection. The POC Tectal has 17 vents for increased airflow, and is as durable as they come, with enhanced fibers in mapped locations based on potential impact. This helmet is not MIPS, but has a reinforced EPS liner and a unibody shell construction.
This helmet is low weight for a fuller-coverage mountain bike helmet without sacrificing durability or safety.
8
Best Budget MTB Helmet
Sparks MIPS Helmet
High-tech for the price
Lower profile
Fuller mountain-bike coverage
Visor can be hard to adjust
Universal sizing
Key Specs
MIPS: Yes
Color: Black, blue, white
Size: Universal
This moderately priced mountain bike helmet has extended protection for the temples and back of your head while still being well-ventilated for extended climbs. This is a lower profile helmet that manages to stay within a budget-friendly range while still utilizing MIPS technology and easy-to-use fit adjusters.
This helmet is built with a polycarbonate shell molded to EPS foam and the company's Dual Flow Ventilation, which pulls air into the channels and lets it flow across your head for added cooling on hot days.
9
Best for Road Biking
Agilis MIPS W Womens Road Cycling Helmet
Sleek, lower-profile fit
Lots of color options
Lightweight
Might be hard to fit for larger-sized heads
Key Specs
MIPS: Yes
Color: White, purple, green, gray, white/yellow
Size: Small, medium
With a whopping 32 vents, this lightweight, comfortable road biking helmet is as breezy as any option you'll find on the market today.
Venting and aerodynamics are key for competitive road riders, and this helmet comes in clutch in both categories while utilizing MIPS technology and an easily adjustable sizing dial. The helmet uses in-molding construction for durability and impact protection without added bulk, and the women-specific build provides a secure, almost custom-feeling fit.
10
Best for Extended Comfort
Sphere MIPS Helmet
Lightweight
Lots of colors
Fewer vents than other road-style helmets
Key Specs
MIPS: Yes
Color: Blue, green, yellow, black, blue, pink/black
Size: Small, medium, large
This helmet expertly combines all-day comfort for extended road or gravel rides with lightweight, aerodynamic design that doesn't compromise on safety and technology. MIPS offers protection against rotational impacts, and the 18 vents provide enough airflow for warmer days.
The Lazer Sphere features a Rigidity Brace system that helps reinforce the protection against multiple impacts, and they use a unique "Advanced Rollsys" fit system to dial in the tightness.
This content is created and maintained by a third party, and imported onto this page to help users provide their email addresses. You may be able to find more information about this and similar content at piano.io
Advertisement – Continue Reading Below